1-1 (4-1): SEVEN TIMES IN THE EUROPA LEAGUE
It's in our DNA. Roma went in front with Dybala's goal in the first half, but Sevilla FC came back to win and now has seven Europa Leagues in the trophy cabinet after a season where we have had many issues, but it ends in historic fashion.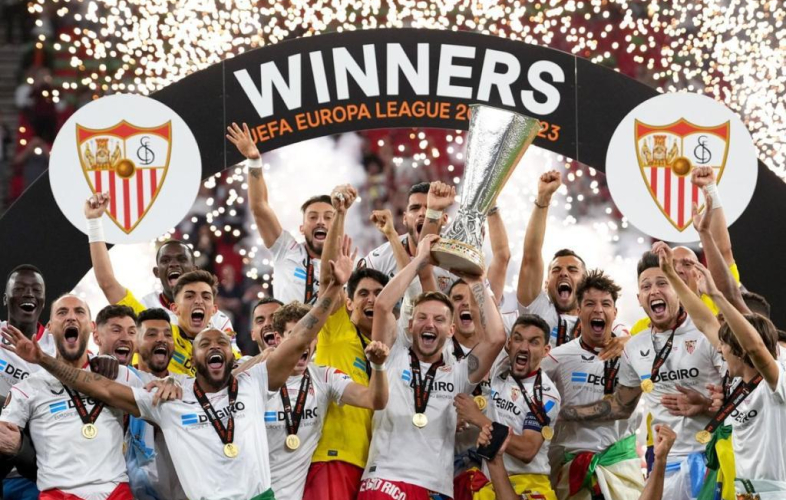 They said it could happen. They said it wasn't impossible. These predictions began to be made following the miracle against Manchester United, and they weren't crazy. Sevilla FC, you can say, wins it again and again. Seven to be exact. Neither United, Juventus, Roma could topple the ultimate kings of the UEFA Europa League, in a season where we have had to correct many things, this gives us the chance to play amongst the very best next season in the UEFA Champions League. Many things went against us during the match once again, with Dybala's goal putting Roma in front, but good luck to the side that wants to defeat Sevilla FC. An own goal from Mancini led to extra time, and penalties. Once again, we would be left ecstatic. Bono did his thing and Montiel was once again the hero to ensure Jesús Navas was able to lift the trophy again.   
The match started with an expected script, as Roma didn't risk going forward, preferring to stay strong at the back and trying to counter quickly to score. There was very little to report during the start of the match, with each team having a corner. Although Spinazzola forced Bono into action just before the quarter of an hour mark, the scoreboard did not change. Mendilibar's men tried to create chances playing through Roma's defensive lines, or by long balls to En-Nesyri, although the Morrocan was always either too high or did not have a player around to play off. With half an hour gone, VAR looked at a possible penalty for a challenge on Abraham by Gudelj. However, Anthony Taylor was correct in not awarding a penalty as the Serbian had connected cleanly with the ball.  
With ten to go until the break, it looked like another part of Roma's typical script would come to fruition, as they almost made the most of the few chances they were presented with. A loose ball, following a dodgy challenge from Mancini on Rakitic, with the former playing Dybala through, who did what he does best as he scored. It was the ideal scenario for Roma and made it tough for Sevilla, who played very high up the pitch with Roma camped in their own half. Seven minutes was added on by the fourth official following an injury in the first half, where the Sevilla maybe used the wing areas a bit too much, which were always cut off by the opponent. In added time, we had our clearest chance as Rakitic hit the post with a clean strike. 
Roma were not about to change their approach and continued to allow their opponents to come forward and take risks. Mendilibar was quick to make his move, bringing on Lamela and Suso to generate play on the inside, taking off Óliver Torres and Bryan Gil. And in almost no time at all, Rui Patricio's goal was under threat as in the tenth minute of the second half, Navas crossed into the six-yard box and Mancini scored an own goal as he attempted to block En-Nesyri. A draw at the start of the second half and a new change of script, with Roma putting pressure on Sevilla once again. Ibañez had a chance after a scramble in the box midway through the second half, but his shot went wide. Shortly after, Suso crossed and Ocampos sent his header too high. The game could have been decided by after a penalty was awarded for Ibañez's challenge on Ocampos, but Taylor waved it away at the request of VAR. Mourinho also protested a handball by Fernando inside the box which the referee ruled as unintentional. Just after, Bellloti had a one-on-one with Bono in a clever strategic move, but it was Sevilla who had the better of the chances, but without the fortune they needed, before extra time.
The added time was a display of brilliance from Mourinho's Roma, who tried to take the game to the wire by executing a plan that they know to perfection. Without any hurry and with continuous stoppages in play, they reached stoppage time with two dangerous free-kicks and a corner that almost put the game to bed. They even had a shot against the crossbar, but an out-of-sorts Sevilla - Gudelj and Fernando had to come off on the hour - reached the penalty shoot-out to let Bono do what he does best. Good strikes from Ocampos, Cristante and Lamela opened the shootout, until the Moroccan international denied Mancini to break the deadlock. Rakitic did not miss that his penalty which gave us the two-goal lead, only for Ibañez's shot against the post to leave Sevilla on the edge of victory. History was written and Montiel could be a hero again as he was in Qatar. He missed, but Rui Patricio was off his line and so the shot was retaken. And whether it be here - or there at the Puerta Jerez - we are again: SEVEN-TIME CHAMPIONS!
MATCH SUMMARY
1. SEVILLA FC: Bono, Jesús Navas (Montiel, min. 94), Badé, Gudelj (Marcao, min. 120+7), Alex Telles (Rekik, min. 94), Fernando (Joan Jordán, min. 90+8), Rakitic, Ocampos, Óliver Torres (Suso, min. 46), Bryan Gil (Lamela, min. 46) and En-Nesyri.
1. AS ROMA: Rui Patricio, Ibañez, Mancini, Smalling, Spinazzola (Llorente, min. 106), Cristante, Matic, Çelik (Zalewski, min. 91), Pellegrini (El Shaarawy, min. 106), Dybala (Wijnaldum, min. 68) and Abraham (Belloti, min. 75).
GOALS: 0-1, minute 35: Dybala; 1-1, minute 55: Mancini p.p.

PENALTIES: Ocampos 1-0, Ocampos; 1-1, Cristante; 2-1, Lamela; 2-1, Mancini (foul); 3-1, Rakitic; 3-1, Ibañez (foul); 4-1, Montiel. 
REFEREE: Anthony Taylor, from England. Yellow cards shown to (Bove, min. 120), Pellegrini, Mancini, Cristante, Çelik, Zalewski, Rafa Mir, Rakitic, Lamela, Montiel.