UEFA EUROPA LEAGUE: SEVILLA – SL BENFICA (0-0)
Sevilla emerged victorious from an exhilarating final, beating Benfica on penalties. Beto took on the role of Palop and secured his place in history with two decisive saves against Cardozo and Rodrigo.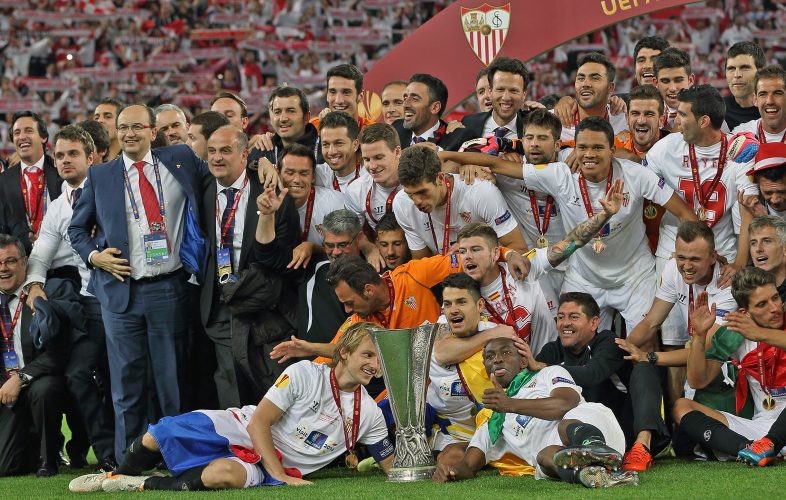 Greatness is something you either have or you don't. Sevilla once again demonstrated that they have something special in Europe, a winning mentality, an unbreakable spirit. Tonight they had another date with glory. The odds were in Benfica's favour, and they played for the win, but they found themselves up against a team with enormous fight, and with the courage of champions. It was an end-to-end final, full of tension, with both teams showing their quality. It came down to a penalty shootout to settle a memorable match which saw Sevilla FC emerge with yet another European trophy.
It was an evenly matched first half, but Benfica perhaps had the better of it. Although neither team totally imposed themselves on the game, it was the Portuguese side who pushed more and, most importantly, had clear chances. They weren't entirely convincing, but did create moments of concern for Sevilla. With hardly five minutes gone both Fazio and Alberto Moreno had been booked, which emboldened Benfica, who had a good chance through Garay in the six-yard box, only for Pareja to appear at just the right moment.
That said, Jorge Jesús's side had to be careful when Sevilla had the ball in Benfica's half. The Andalusians demonstrated that they were capable of a great deal if they were to add some precision to their game. Just as the first half was drawing to an end, Beto was called into action, first diverting a cross from Pereira and then stopping a shot from Rodrigo. The break was a welcome one for Unai Emery's men.
The second half brought little respite. In three minutes, Nico Pareja was the hero once again, first stopping Rodrigo scoring a certain goal, and then again, this time foiling Lima's attempt. The Argentine was staking a claim for the man of the match award for his side and he gave them a boost, with Sevilla gathering themselves and showing how lethal they could be. A pass from Rakitic that Reyes wasn't able to make the most of was the first warning, but the chance revitalized the Spaniards. Both sides went for it and the game benefitted as a spectacle. Both sides had chances. For Sevilla, Bacca and Reyes were involved in a good counter attack that they couldn't finish off and the Spaniard once again in the 61st minute had a chance on goal but his shot didn't have the power needed to beat Oblak.
Sevilla began to have more chances, and their confidence grew, as did the time they spent in Benfica's half. They started to dominate, but Benfica showed their fight, and with both sides going toe to toe, the match entered its final stages. Vitolo, who was particularly inspired, created danger on every break, but Beto couldn't let his guard down for even a moment due to a number of clear chances for the Portuguese side. Marin came on for Reyes, but in the final moments of normal time, the players became less inclined to take so many risks, particularly Emery's men, who dug in faced with an onslaught from Benfica until the referee brought normal time to an end.
The final was more than exciting. It was so tense that even the stands fell silent
Sevilla had a breather and the whole squad and coaching staff got together before the players headed back out on to the pitch. The victory would not be easy. Jorge Jesús replaced Siqueira with Cardozo in a clear attacking move and the Paraguayan tested Beto with his first attempt, a free kick that the Sevilla 'keeper managed to clear. Carlos Bacca had an even better chance on the counter, but he couldn't make anything of his one on one with Oblak. Practically the next action saw Emery bring on Gameiro for Marin. The tension remained, and the second half of extra-time arrived. Vitolo was replaced by Diogo, but the match was heading towards penalties, although either team could have won it.
The final stages were so tense that even the stands fell silent, with all 22 players playing through the pain, and over 40,000 fans suffering in the stands of the Juventus Stadium. And so, once again, Sevilla would have to win the UEFA Cup from 12 yards. Perhaps it was the fairest way in a pulsating final, in which both teams deserved their share of the glory, for first competing with quality and then with heart. The fateful shootout arrived, and Beto became Palop. The hero was Portuguese, but didn't play for Benfica. At 1-1 Cardozo stepped up, but he hesitated, and Beto diverted his penalty wide. Mbia scored and Rodrigo's follow-up was saved by a brilliant Beto. Coke made it 3-1 and, although Lima prolonged his team's agony, Gameiro settled it with a goal that put Sevilla among the greats, among the champions, among the giants of Europe, but above all, a goal that gives them back what's theirs. Their cup. Sevilla made their dreams a reality again.
MATCH FACTS
0. SEVILLA FC: Beto; Coke, Pareja, Fazio, Alberto Moreno, Mbia, Carriço, Reyes (Marin, min. 78 -Gameiro, min. 104-), Rakitic, Vitolo (Diogo, min. 110) and Bacca.
0. SL BENFICA: Oblak; Maxi Pereira, Luisao, Garay, Siqueira (Cardozo, min. 98), Rubén Amorim, André Gomes, Nico Gaitán (Ivan Cavaleiro, min. 118), Sulejmani (André Almeida, min. 25), Lima y Rodrigo.
GOALS: Penalties: Lima (scored); Bacca (scored); Cardozo (missed); M'Bia (scored), Rodrigo (missed); Coke (scored); Luisao (scored); Gameiro (scored).
REFEREE: Felix Brych (GER). Yellow cards: Fazio (min. 10), Moreno (min. 11), Siqueira (min. 29), Coque (min. 97), André Almeida (min. 99).
GENERAL:UEFA Europa League Final 2014/2015, played at the Juventus Stadium in Turin on 14 May 2015 in front of roughly 33,000 spectators.