UEFA EUROPA LEAGUE: RCD ESPANYOL-SEVILLA (2-2)
Sevilla went ahead on two occasions, but the fight displayed by Espanyol, who played for a long time with 10 men, took the match to a penalty shootout, in which Palop secured his status as a club legend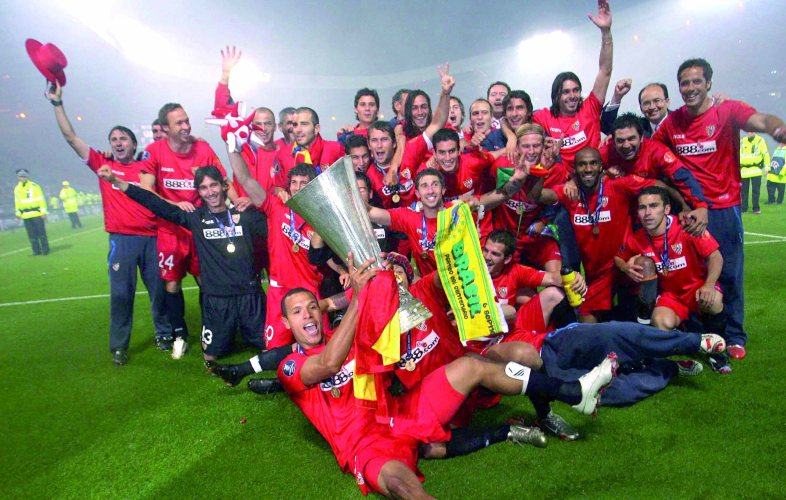 If it's all about writing golden chapters in the club's history, Juande Ramos's Sevilla side may well run out of ink. In Hampden Park, the home of the Scottish national side and a world famous stadium, Sevilla defeated Espanyol and retained the title they won for the first time on 10 May 2006. And they never looked back. They defeated a tough Espanyol side, who showed great courage, but ended up falling at the hands of a goalkeeper who was born in Valencia, and became a legend at the Ramón Sánchez-Pizjuán.
The destiny of the UEFA Cup, after 120 breathless minutes, came down to penalties. And Andrés Palop, who scored with his head in Donetsk to send his team to the quarter finals, was there. And he did it again. He was the hero once again, saving three penalties to leave Sevilla overwhelmed with joy, and UEFA Cup Champions, once again.
If it's all about writing golden chapters in the club's history, Juande Ramos's Sevilla side may well run out of ink
Before all that happened, the match started with Sevilla in charge. Soon after kick-off Maresca found himself in the area and his shot was the first scare for the Catalans. The Andalusians' dominance gradually faded as Espanyol got into the game and Moisés tried his luck from distance forcing a superb save from Palop. Shortly after, Juande Ramos's side countered with Adriano and scored the first goal of the night. The Brazilian broke at pace down the left-hand side and beat the 'keeper with a well-placed shot.
It was the 18th minute and everything was yet to come. The Andalusians looked for the second. Puerta got through the defence but his cut back didn't find anyone. Espanyol were shaken, but when Riera shot from outside the area, his effort came off a defender meaning Palop couldn't get there in time to keep out the equalizer. After drawing level it was Espanyol who were on the front foot. The game was open and with half an hour gone, anything could have happened. In the 37th minute Antonio Puerta came close to scoring Sevilla's second. His shot from inside the box just missed with Gorka beaten.
At the break Juande Ramos brought on Navas looking for more efficiency in the attacking third
The break came when Sevilla were dominating, but Juande Ramos decided to change things. Having initially opted for three in central midfield, Navas replaced Maresca as the Sevilla FC manager looked for more on the right-hand side. The change didn't alter the rhythm of the match. It remained open. Both sides had chances saved thanks to Kanouté and Tamudo respectively, but it was Riera who brought the best out of the Sevilla goalkeeper with a rocket that Palop had to push onto the crossbar. Moisés's sending off came with under 25 minutes of the 90 to play when he fouled Kerzhakov as he closed in on the Espanyol box.
In the latter stages Sevilla got into a number of good positions, making the most of their numerical advantage, but Espanyol were able to keep them at bay
Sevilla's best chances came as the 90 minutes were coming to an end. Puerta broke and won a corner which was flicked on to the far post by Drago, where Kanouté's header came back off the post, only for Drago to send the rebound over the bar. Sevilla kept at it with a string of corners, but in the end extra time was inevitable, and it began how normal time had ended, with Sevilla dominating. Navas came close on the counter and the corners kept coming. A cross from Navas even went through the six-yard box, but no one got there to put it in. Eventually, though, the second goal came. Navas put the ball into the six-yard box again and this time Kanouté was there at the near post to guide it past the goalkeeper and send the travelling Sevilla fans into a state of sheer joy. Sevilla were within touching distance, but just when it seemed assured, Jonathas beat Palop from distance, meaning the final would be decided on penalties.
It was all be decided by a penalty shootout in which Palop turned out to be the hero once again, having sent Sevilla on the road to glory in Donetsk
The atmosphere was tense, but Palop kept his cool. He saved three of the four penalties he faced and sent Sevilla wild. Palop turned out to be the hero once again, having sent Sevilla on the road to glory in Donetsk. Sevilla lifted their third European trophy in little over a year. They join an exclusive club of teams to have won two UEFA Cups in a row. This is the new Sevilla, possibly the best in the club's history. And there's still more to come, with the league and cup still to play for. Glasgow, like Eindhoven and Monaco will always be remembered. Thank you, Sevilla, for this magical story that looks set to continue.
MATCH FACTS
2. RCD ESPANYOL: Gorka; Zabaleta, Jarque, Torrejón, David García, Moisés Hurtado, De la Peña (Jonatas, min. 87), Rufete (Pandiani, min. 56), Riera, Luis García, Tamudo (Lacruz, min. 72).
2. SEVILLA FC: Palop; Daniel Alves, Javi Navarro, Dragutinovic, Puerta, Martí, Poulsen, Maresca (Jesús Navas, min. 46), Adriano (Renato, min. 76), Kanouté, Luis Fabiano (Kerzhakov, min. 64).
GOALS: 0-1, min.18: Adriano. 1-1, min. 28: Riera. 1-2, min. 105: Kanouté. 2-2, min. 116: Jonatas.
Penalties. 0-1, Kanouté: scored. 0-1, Luis García: saved by Palop. 0-2, Dragutinovic: scored. 1-2, Pandiani: scored. 1-2, Alves: missed. 1-2, Jonatas: saved by Palop. 1-3, Puerta: scored. 1-3, Torrejón: saved by Palop.
REFEREE: Massimo Busacca (Switzerland). Moisés Hurtado sent off for a second bookable offence (min. 12 and 67). Yellow cards: Luis Fabiano (min. 62), Kanouté (min. 81), Jesús Navas (min. 85) and Puerta (min. 115).
GENERAL: UEFA Europa League Final 2006/07, played at Hampden Park in Glasgow on 16 May 2007 in front of some 55,000 spectators. Prince Philip and the president of UEFA, Michel Platini, among others, were in attendance. It rained during the entire match.